After months of hard work designing, developing, and testing our offering as ChistaDATA Cloud has reached an early preview stage. In this post, we'd like to give you a quick sense of what's coming next. Our plans are significant, and nothing compares to our decades of database knowledge that will solve real-life problems that helps both businesses and data engineers worldwide at scale.
While we're offering autonomous ClickHouse, rest assured we'll be coming with many integrations in place, which is the core of providing uninterrupted analytical services. Along with integrations, many features will be developed on top of the cloud offering.
As Shiv Iyer has outlined the most prominent features of our offering, I'd like to give you a sneak peek of what we've built so far and what's coming next. In our next series of blogs, we'll be practicing some of the most problematic areas of OLTP databases' analytical and time-series data archival and processing at the ClickHouse level.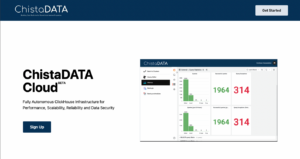 Here we have not forgotten the development community and built a platform with multiple workspaces. We think this is crucial for our upcoming features of ChistaDATA Branching, Cloning, Online Schema Changes, and integration into the ClickHouse tooling we've been developing.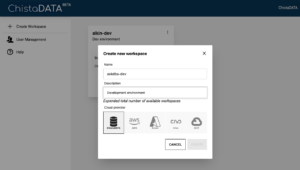 Once the platform user creates a workspace that will be controlled by a role based access can create underlying ClickHouse Clusters. We also utilize scalable data on Kubernetes infrastructure to host and scale database clusters.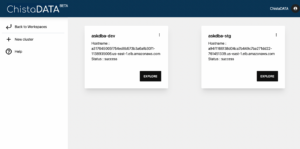 Here we have access to multiple ClickHouse clusters with the ability to monitor, backup, and query editor.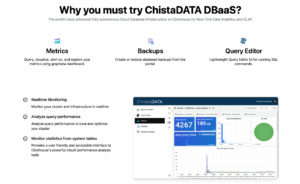 Along with CLI access, users can query data using the intuitive UI.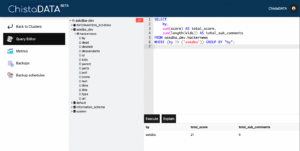 Moreover, users will have access to Backups and Monitoring and other features coming soon.

In conclusion, our teams are dedicated to delivering one of the best real time ClickHouse Analytical cloud database offerings with rich features. Some of the highlights of upcoming features will be:
ChistaDATA Proxy
ChistaDATA Query Profiler
ChistaDATA Branching
ChistaDATA Clone
ChistaDATA Online Schema Changes
ChistaDATA Benchmarking
ChistaDATA Security and Compliance
ChistaDATA Backup Suite
Point in time recovery
Flashback
ChistaDATA Monitoring and Alerting
We'll be happy to give you a demo or talk about it over a call. Feel free to reach out to us.