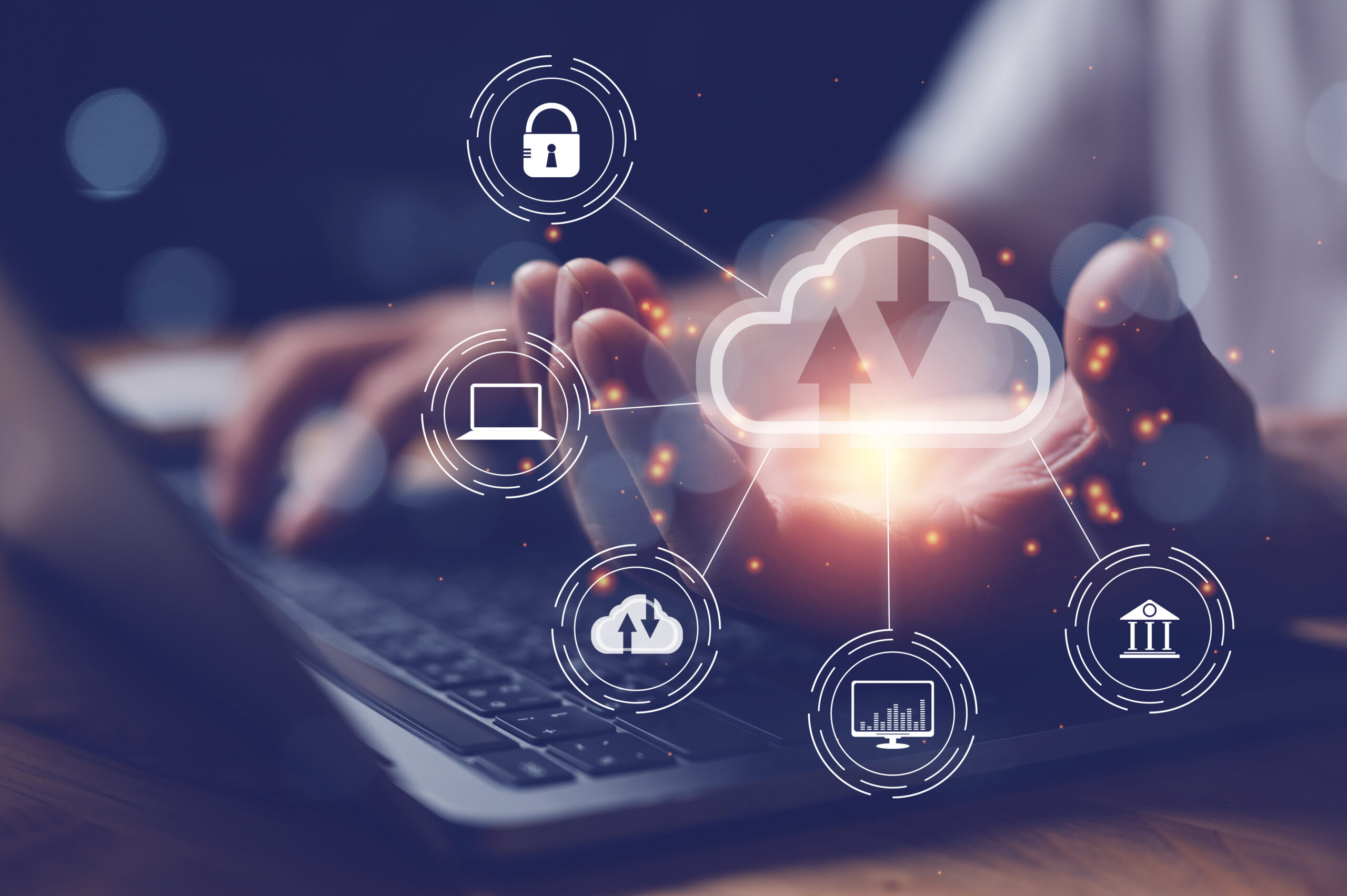 Exciting news for all data enthusiasts! We are thrilled to announce that our ChistaDATA DBaaS platform for ClickHouse is now generally available, providing a powerful and reliable solution for managing and analyzing large volumes of data. Our team has been working tirelessly to deliver a seamless experience for our users, and we are proud to have reached this significant milestone. Furthermore, we are delighted to share that our recent Beta release for the DBaaS portal, which took place on Nov 2022, has received positive feedback. Many have requested additional features and functionality, and we are committed to continually improving ChistaDATA to meet the ever-evolving needs of our users.
Over the next few weeks, we will be posting a series of blogs that will explore all the modules and benefits of the ChistaDATA portal in great detail. Each blog will provide comprehensive visualizations and detailed explanations of each feature. In this particular post, we will take a quick glance at the different components involved and give an introduction to all the features that are currently available on the DBaaS portal. So, without further ado, let's jump right in and get started!
Workspace
Workspaces are clusters grouped together for easy management in the cloud. They allow for access management based on membership and can be assigned to workspace admins for delegation of responsibilities. ChistaDATA offers flexible tier plans for users to create a specified number of workspaces that align with their business requirements.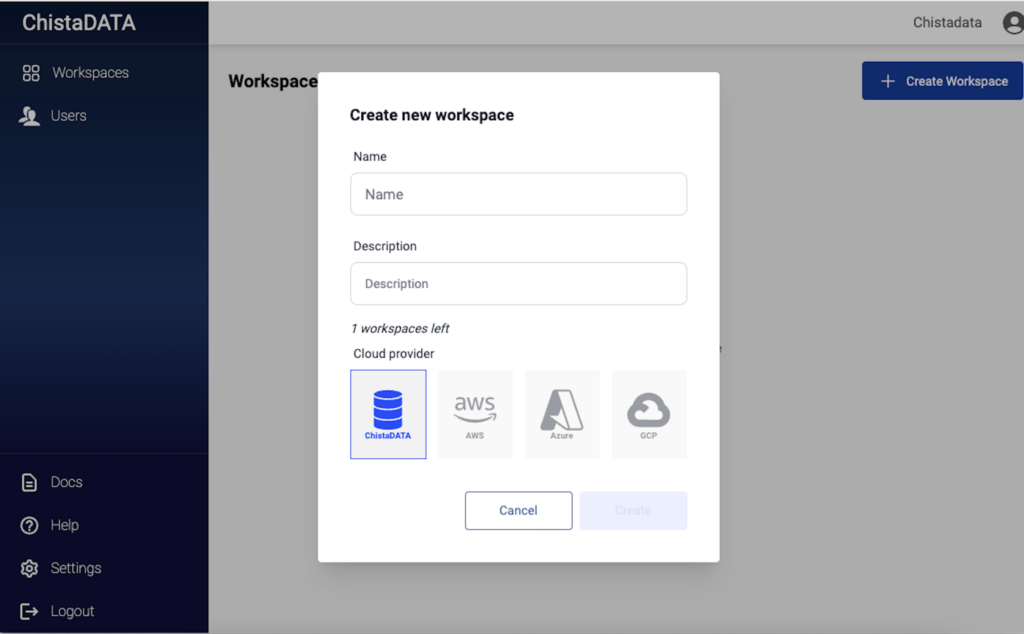 User Management
The ChistaDATA Portal is equipped with a hierarchical permission management system that enables administrators to effectively assign permissions to individual users across a range of features. This powerful tool ensures greater control and security over user access and privileges.
In the current version, there are three access levels that the admin can assign to users:
Organization Admin (

ORG_ADMIN

): Has complete control over all actions available under the current organization.

Workspaces Admin (

WORKSPACES_ADMIN

): Has complete control over all actions at the workspace level.

Read-Only User (

READ_ONLY_USER

): Can view and interact with all capabilities at the cluster level, but cannot create or delete workspaces or clusters.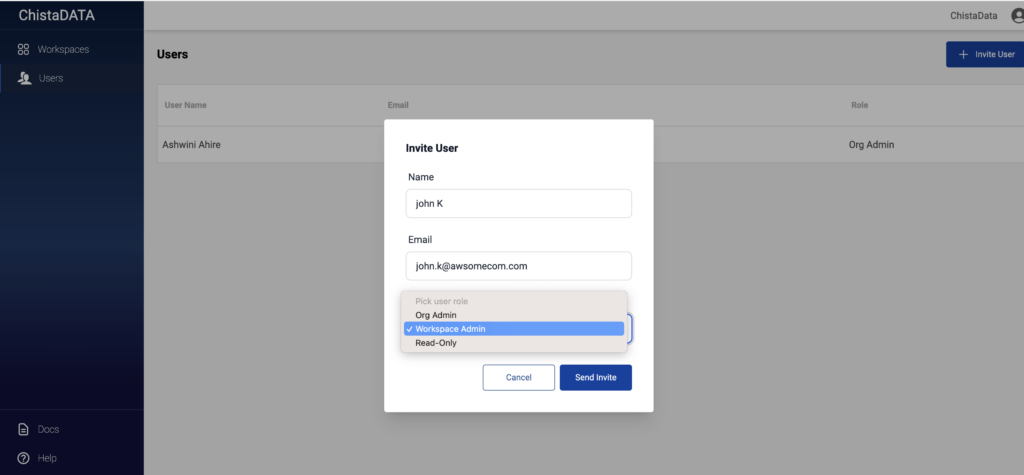 Cluster
A cluster refers to the group of ClickHouse instances. The number of clusters an organization can create depends on the tier subscribed at the time of signup.
Yes, ChistaDATA Cloud offers a complimentary trial period that spans 90 days. For those who want to try and test before making a commitment, ChistaDATA Cloud welcomes interested users to create a free account and take advantage of the trial period. If you're ready to explore this service, follow this link to sign up: https://chistadata.io/
In a free subscription – you will be able to create limited clusters with nano type only.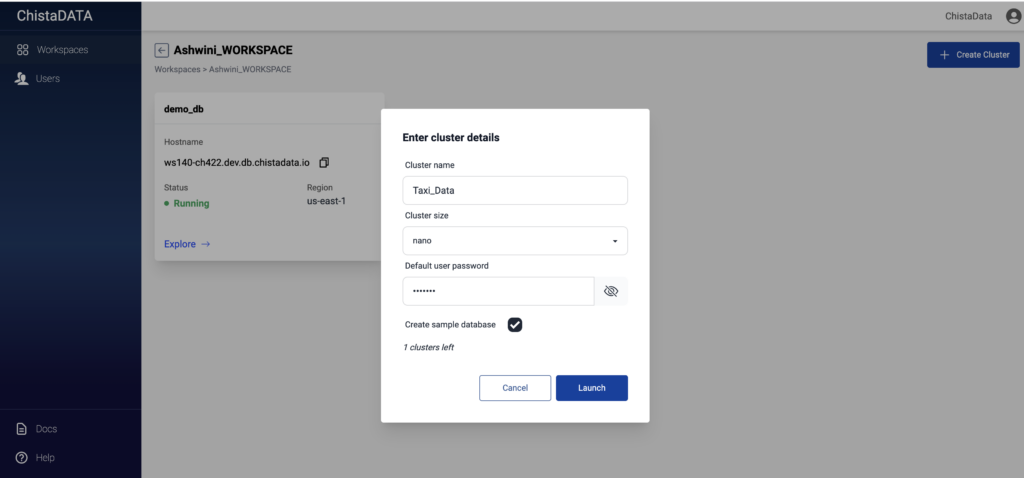 The load sample data option is also available, more details about schema and sample queries visit here 
You will be able to see all active clusters under the selected workspace.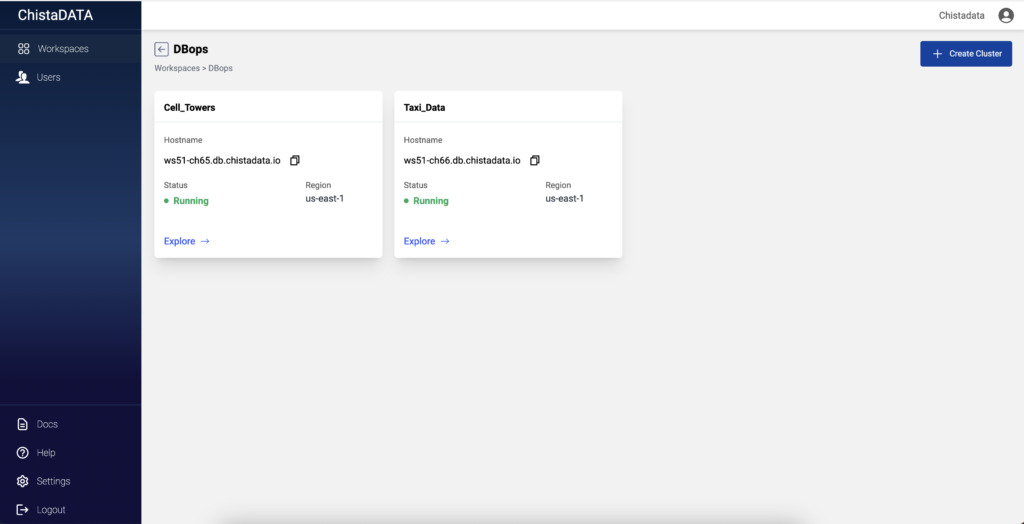 Query Editor
Lightweight Query Editor UI is available for running SQL commands against a ClickHouse instance without installing additional software.
Currently, Query Editor supports DB/Table schema browsing, Interactive SQL queries, and Explain Queries in addition to Syntax highlighting. new functionality is under development to enhance your experience further.

Backup and Restore 
There are two types of backup options enabled in the portal, on-demand backup and scheduled backup. The current version backup is available at Database Level, we can take daily/weekly, or monthly backups and we can also run custom schedule backups in cronjob format.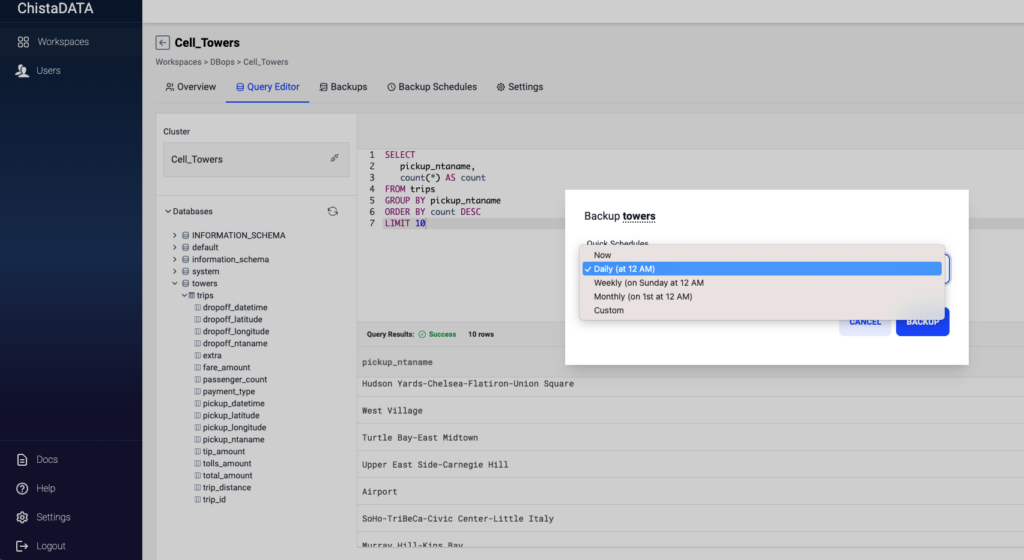 We are consistently doing enhancements in the current structure to support point-in-time restoration as well as flashback mechanisms.
The scheduled backup we can see under the Backup Schedules tab and we can also restore successful backups from the Backup tab.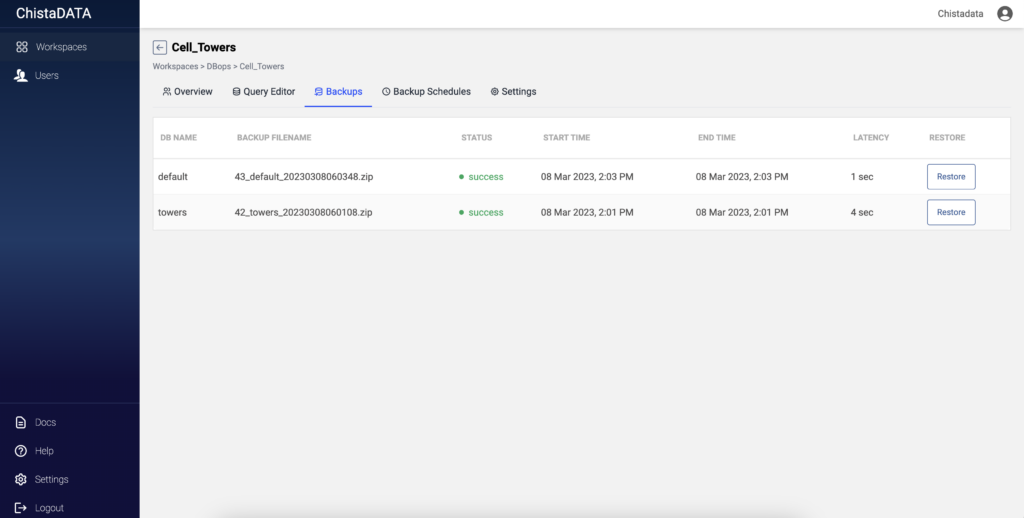 Billing Module 
For payment, we offer a range of flexible options to suit your needs, including monthly, quarterly, and yearly plans. Depending on the subscription plan you choose, you may also be eligible for discounts.
Different subscription plans currently we are supporting are available under Setting -> Billing.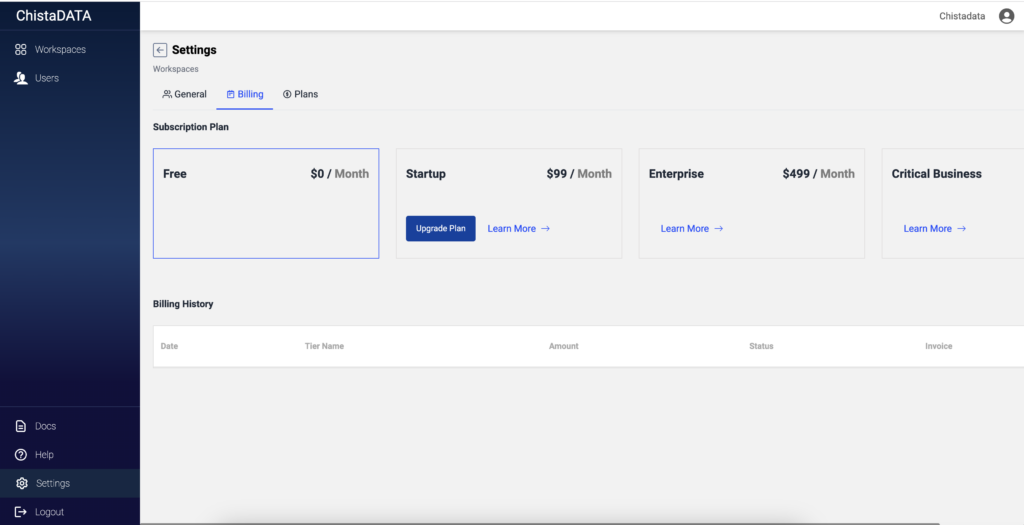 ChistaDATA Portal Services are available based on the subscription you have signed up for and you can also have quick look under the Plans tab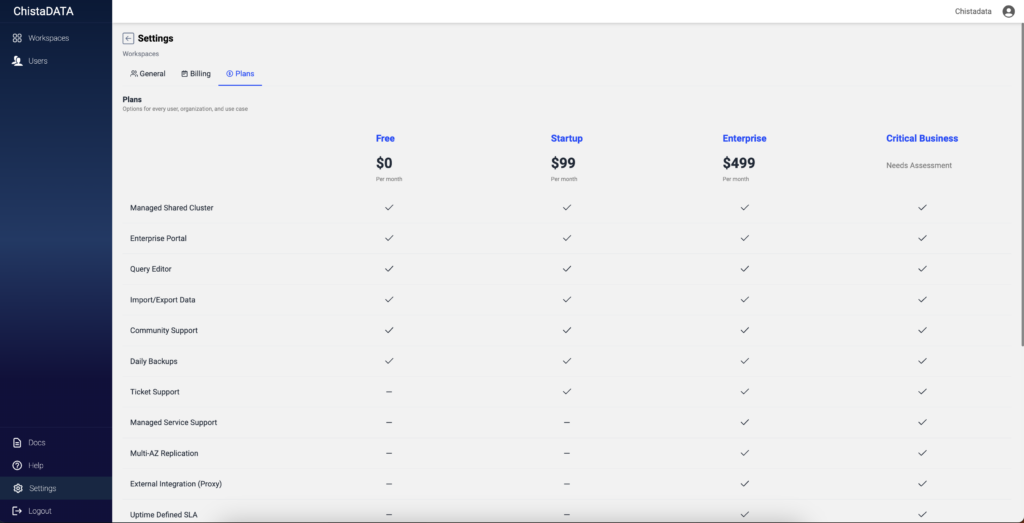 Portal Document 
The Comprehensive Portal document is also available to provide clear and concise instructions on how to use all the features available on ChistaDATA Portal, helping you get up and running quickly. Portal Document: https://docs.cloud.chistadata.io/index.html
ChistaDATA Support 
ChistaDATA Customer Support offers technical assistance, a knowledge base, community forums, a ticketing system, and a service level agreement to ensure customers receive the necessary support and resolve any issues encountered while using ChistaDATA Cloud services.
With this blog post, We hope to provide an overview of the different modules available on the DBaaS portal of ChistaDATA. Stay tuned for the upcoming posts in this series where we dive into each feature in more detail. We are excited to help you get the most out of ChistaDATA and make your database management experience seamless and stress-free.
To learn more about our origins and the vision of building an autonomous ClickHouse infrastructure with ChistaDATA Cloud, please visit : DBaaS for ClickHouse